Heroes Review: Fall From Grace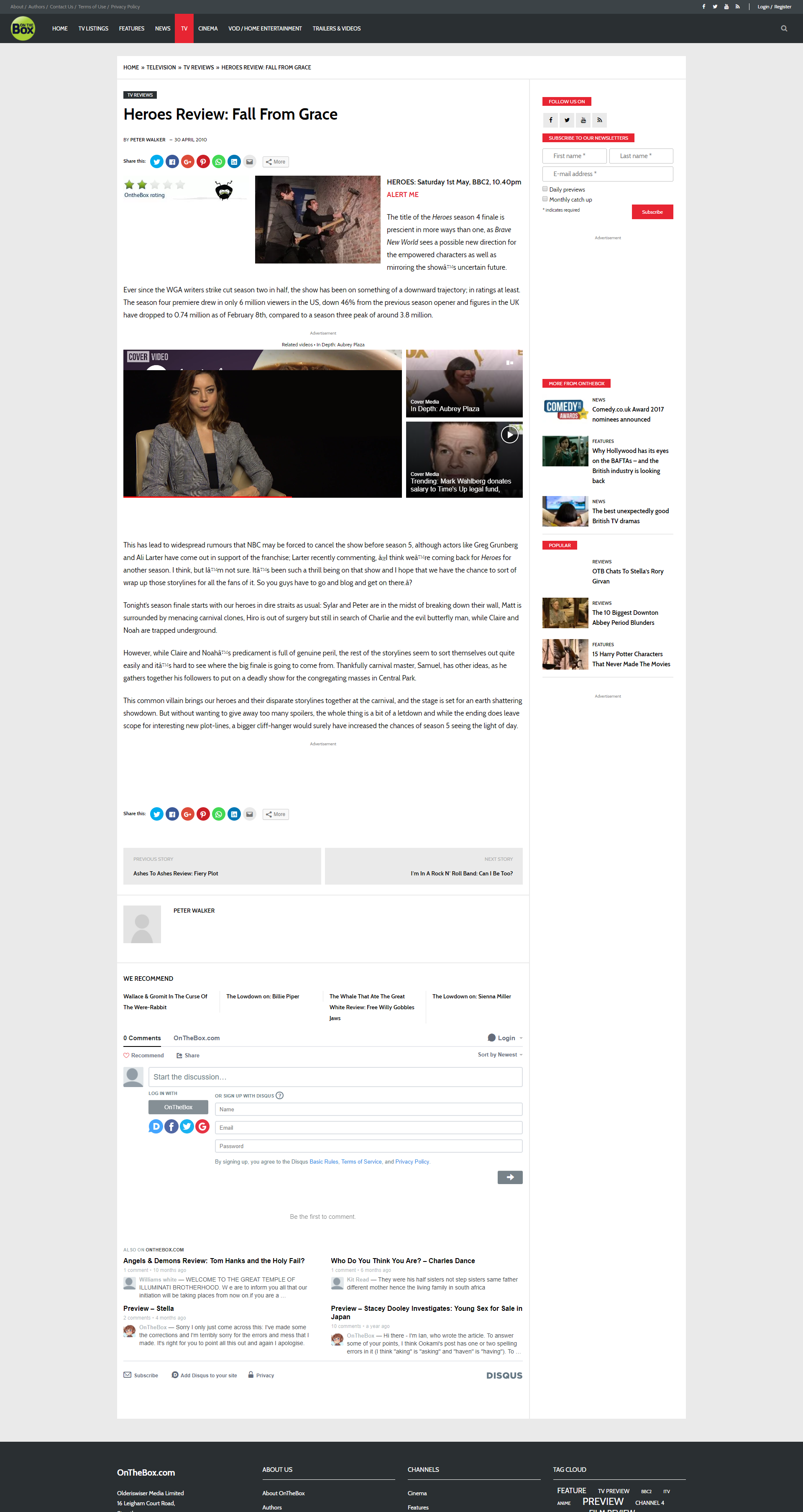 HEROES: Saturday 1st May, BBC2, 10.40pm
The title of the Heroes season 4 finale is prescient in more ways than one, as Brave New World sees a possible new direction for the empowered characters as well as mirroring the show's uncertain future.
Ever since the WGA writers strike cut season two in half, the show has been on something of a downward trajectory; in ratings at least. The season four premiere drew in only 6 million viewers in the US, down 46% from the previous season opener and figures in the UK have dropped to 0.74 million as of February 8th, compared to a season three peak of around 3.8 million.
This has lead to widespread rumours that NBC may be forced to cancel the show before season 5, although actors like Greg Grunberg and Ali Larter have come out in support of the franchise; Larter recently commenting, "I think we're coming back for Heroes for another season. I think, but I'm not sure. It's been such a thrill being on that show and I hope that we have the chance to sort of wrap up those storylines for all the fans of it. So you guys have to go and blog and get on there."
Tonight's season finale starts with our heroes in dire straits as usual: Sylar and Peter are in the midst of breaking down their wall, Matt is surrounded by menacing carnival clones, Hiro is out of surgery but still in search of Charlie and the evil butterfly man, while Claire and Noah are trapped underground.
However, while Claire and Noah's predicament is full of genuine peril, the rest of the storylines seem to sort themselves out quite easily and it's hard to see where the big finale is going to come from. Thankfully carnival master, Samuel, has other ideas, as he gathers together his followers to put on a deadly show for the congregating masses in Central Park.
This common villain brings our heroes and their disparate storylines together at the carnival, and the stage is set for an earth shattering showdown. But without wanting to give away too many spoilers, the whole thing is a bit of a letdown and while the ending does leave scope for interesting new plot-lines, a bigger cliff-hanger would surely have increased the chances of season 5 seeing the light of day.